Juniors Match Report: Harrogate Railway 4 - 2 Pannal Sports
A lovely morning, horrid pitch on a slant!
Pannal lost the toss so defended the downhill, and to their credit took the game to Railway. Matt and Joel were combining well and eventually Joel put Matt through to open the scoring with a nice flick past the goalie 0 - 1. Pannal were coping well uphill, with Archie, Will G and Finlay (Capt) working to feed the wide players. Tom Brett and Chris Douglas were working hard in the midfield and Pannal were looking to increase their advantage.
To some extent Railway scored against the run of play 1-1 before scoring two goals which should have been prevented, one from a corner where no player was on the near post to clear and the other an unchallenged run and shot across the pitch. To their credit Pannal rallied and a great run by Will S to the byline saw him whip in a great cross that James C slotted in at the far post 3 - 2. Punters were seen flocking to William Hill to bet on the home win at this stage! Some good Pannal pressure before the break failed to net an equaliser.
On the downhill after the break Pannal sought to take advantage. Good amounts of possession were effectively snubbed out by a drilled Railway defence. Both ends saw goal mouth drama where the ball failed to go in before Railway scored from a suspiciously offside position. 4 - 2. Joel went close from a free kick and Sam Chambers made a couple of good stops to keep Pannal in the game. Despite some positive attacking through the centre, Pannal could not find the key pass or touch to lessen the deficit, with Will T, Chris D working hard to find an opening.
Final Score 4 - 2 MoM Chris Douglas: Busy and hardworking in the midfield.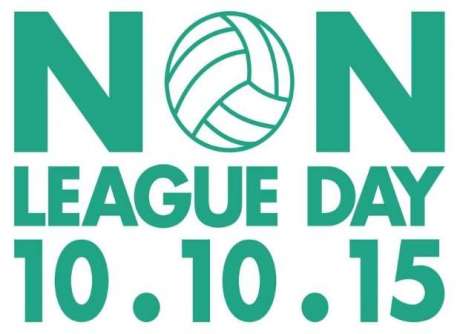 Support Non League Day by HRFC
Harrogate Railway will be supporting Non League Day on 10th October.
Please join us to show your support or visit their website.
Success For Railway Betting Syndicate
Our "just for fun" betting syndicate has been running for the past two seasons. All members contribute £2 every week, and the pot is split between Lotto tickets and football betting. The syndicate meets on Fridays to analyse the weekend fixtures and decide what to bet our pot on this weekend.
Recenty we have been working our way through the list of online bookies free bet offers here to supplement our stake. This weekend, it paid off when we hit a winning 8 team accumulator which returned a cool £3,518 each for our members. Due to recent form we didn't include Railway to win as one of our selections, but the teams we did pick did the business and the bookies were beaten! Roll on next week...
M.F.O.R in the Dagger
by Darren
M.F.O.R will be playing from 9pm onwards on Sat 10th May.
They are a cover band and play mostly rock. It's also free to get in.
They appeared down at the Dagga a few months back and got a decent response. Hopefully we will see you down there.
Latest
by Darren
HARROGATE RAILWAY ATHLETIC FOOTBALL CLUB have taken the decision to
relieve Vince Brockie of his position as 1st Team Manager at the club
effective immediately.

David Morgan will take care of Team affairs for Saturday 26th April in our
last game of the current season at home to Newcastle Blue Star.

The Club will be looking to recruit a New Manager and would welcome
interested parties to apply to:

 The Football Secretary
 HARROGATE RAILWAY ATHLETIC FOOTBALL CLUB.
 Station View
 Harrogate
 HG2 7JA

Thanks & Regards

David Shepherd
Football Secretary
Harrogate Railway Athletic FC
Back 2 Back
by Darren
Hello All
We are embarking on a three game home advantage run and need all the support we can get. Come down and cheer like it's the FA Cup final and help us cap of an already impressive season.
| | | | | |
| --- | --- | --- | --- | --- |
| Mon 24th Mar | H | Ossett Albion | Unibond One North | Kick-off 3.00pm |
| Wed 26th Mar | H | Radcliffe Borough | Unibond One North | Kick-off 7.45pm |
| Sat 29th Mar | H | Curzon Ashton | Unibond One North | Kick-off 3.00pm |
Juniors
by Darren
Harrogate Railway Juniors now have their very own site www.harrogaterailwayjfc.com which is available from the bottom menu bar.
FA Cup Second Round DVD
by Darren
Hello
We now have available a DVD of the Mansfield FA Cup tie. Please speak to satff in The Dagger for a copy. George Gul will be publishing highlights on his Youtube channel in due course..
Darren
Thank You One & All
by Shep
A Monster Monster WELL DONE to Vinnie, Dave Morgan, Dave Roache & Nick. To all the players, those who figured against Mansfield and those who made this FA Cup run possible with their contribution in earlier rounds. Harrogate Railway have scored 21 GOALS!!! In 8 Massive FA Cup Games. This has been a great experience that has touched Thousands nay Millions of Football Supporters all over the Globe.
 
It should also be said that it took a Monster Effort from many many people to make sure this fixture went ahead.
 
Mick Gray & partner Helen worked tirelessly for the past 2 weeks. John, Billy, Ray & Steve our ground staff who are down the ground every week but have had to work like Trojans to make this game go ahead. Emma & Gary, Mr Sunners, Big A, Trev, Bob Gray, Dennis Bentley, Harry Wood, Dave Green, Dave Greenwood, Rob & Judi, John Jenks, Dave Kirk Sue & Brian Owen, Doug Oldfield, Ken ( Beaver FM) Welford, Matt (BARMY BEAVER) Thirkell. Bar Staff Dan, Sarah, Vicky, Kath, Alison, Emma & Gary, Mrs Johnson. The Harrogate Railway Juniors as Mascot?s Ball Boys and Singing Supporters??.
 
Others who should be mentioned for their part played for this great day.
 
The BBC (Superb people working in horrendous conditions) SSS (Sports Stadia Service) who covered the pitch. HSS The Hire People who sponsored the game and answered our every need. Yorkshire Tea who have supplied tea and biscuit to the Railway masses. St. Johns Ambulance The Scarborough Stewards, Town Stewards, Mansfield Stewards Our Stewards, North Yorkshire Fire Brigade All our Sponsors NEW AND OLD
 
All at Mansfield Town Football Club and their Supporters
 
IF I HAVE MISSED ANYONE I?M SORRY BUT I MEAN YOU TO Â 

 
Thank you for making Sunday a special day for me.
 
Shep
David Shepherd
Football Secretary
HARROGATE RAILWAY ATHLETIC FOOTBALL CLUB.
NO PARKING FOR FA CUP TIE
by Darren
Unfortunatly there will be no parking for the FA Cup tie with Mansfield Town this Sunday (2nd Dec 07).
There is ample parking in Harrogate Town Centre and frequent public transport to Station View, Starbeck.
:FA CUP TICKETS: :FA CUP TICKETS:
by Shep
:FA CUP TICKETS: :FA CUP TICKETS: :FA CUP TICKETS:
Tickets are now SOLD OUT.
Sorry if your disappointed but you can still watch LIVE on BBC 1 on Match of the Day
:FA CUP TICKETS: :FA CUP TICKETS: :FA CUP TICKETS:
Christmas Raffle
by Rob
Do Not Miss The Railway Raffle. ThisYear Just One Of The Great Prizes Is 4 VIP Tickets To The Grand National At Aintree.